Anna Claire finally gave up her tricycle a few weeks ago and was so proud to be riding her big girl bicycle.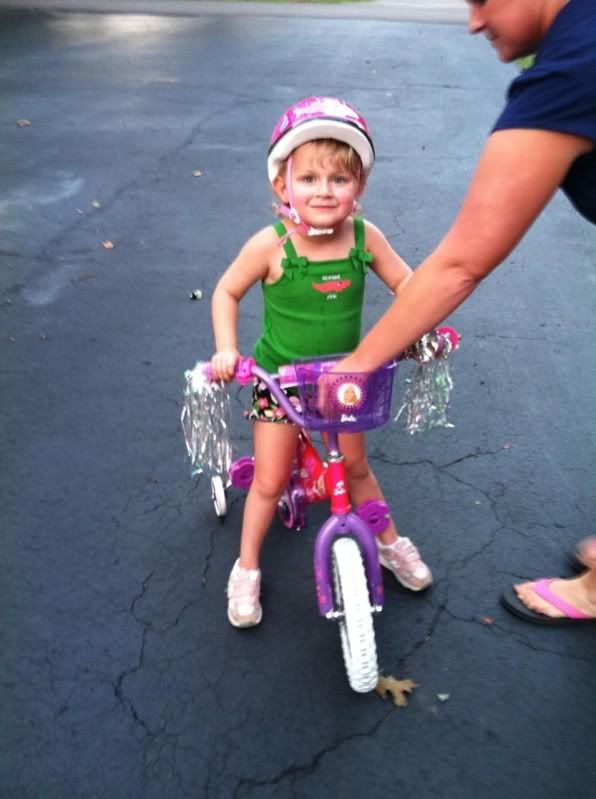 The storms on June 18th that seemed to come out of nowhere, did some damage to the side of the house. It sounded like someone was throwing rocks at the side of the house and I was thankful that the hail didn't bust the upstairs window. Here's some of the damage.
Anna Claire and I made some super fun cupcakes. I didn't taste them, but she seemed to enjoy them. Cupcake batter in an ice-cream cone freaked me out a little bit, although they were cute!
We made some other cupcakes, but I didn't take any pictures of them because I was exhausted and stressed out by the time we finished them. I DO NOT recommend the Lighting McQueen cupcakes on the Disney Family website. They look way easier to make than they actually are.
We made some flip-flops, actually we decorated some flip-flops.
Here is one of her Cars flip-flops and one Tinker Bell flip-flop.
The flip-flops were much easier than the Cars cupcakes!!
This past Saturday Anna Claire, MeMe, and I went to see Cars 2.
Anna Claire loved Cars, but she got bored during Cars 2. I even got bored during Cars 2. It was more about clean energy than it was a race. Anna Claire did enjoy the Toy Story mini movie at the beginning. : )
After the movie, Anna Claire asked to go to the pink ice-cream place, so we went there and then to Merle Norman (aka the Hello Kitty store) in Tullahoma.
Her dance recital pictures came in yesterday.
We are still waiting on the DVD of the rectial. I cannot wait to watch it again because it was priceless!!